Sufficient Grace Ministries
407 S Stearns Ave
Deshler, Ohio 43516
419-278-7640
Walking With You Bereavement Support Groups
 For those walking the path of grieving the loss of a baby or child, we offer grace for the journey and a friend to walk with you…
Online Support:  Walking With You Bereavement Support Group  
In-person SGM Walking With You Bereavement Support Groups meet monthly throughout Ohio:
NW Ohio – Meets the 2nd Monday of each month @ 6:30pm at Sufficient Grace Ministries headquarters in Deshler, Ohio
NE Ohio – Meets the 2nd Saturday of the month @ 10:30am at Riemer Road Baptist Church in Wadsworth, Ohio
SE Ohio – Meets the 1st Thursday of each month @ 7:30pm at Jeremiah's Coffee House, 175 Front St Marietta, OH
SGM Coming Events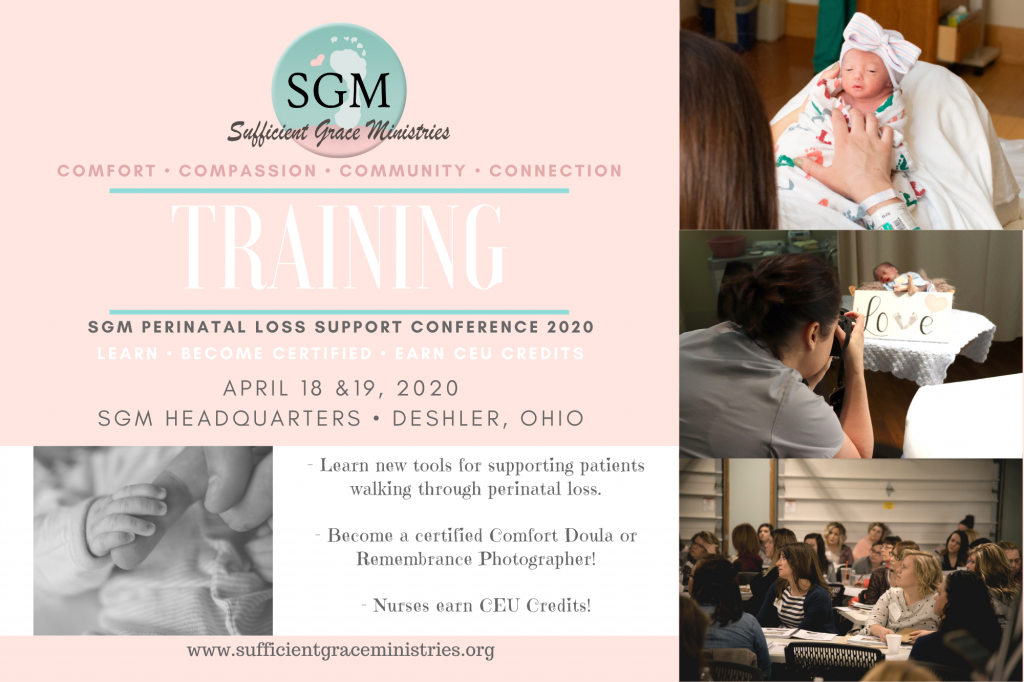 This year, we are hosting our annual birth professionals and volunteer perinatal loss support training conference at Sufficient Grace Ministries Headquarters! Learn about creating a comprehensive, compassionate parent-centered perinatal loss support program, offering perinatal hospice support, and MORE through this CEU-approved training!
Register here: https://sufficientgraceministries.org/sgm-perinatal-loss-support-training/
Join the SGM Perinatal Loss Support Conference FB Event Page HERE.