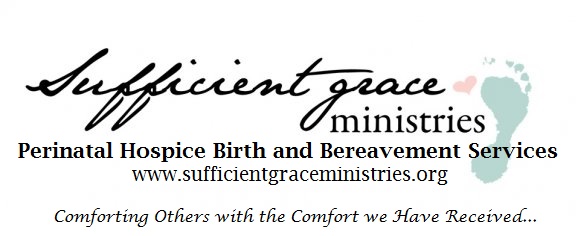 SGM Perinatal Loss Support Hospital and Birth Professional Training
Contact Kelly Gerken: sufficientgraceministries@gmail.com

————————————————————————————————————————————————-
REGISTRATION FOR CHCW BRYAN HOSPITAL PERINATAL LOSS SUPPORT TRAINING ON MAY 18, click here.
 ————————————————————————————————————————–
REGISTRATION for the April 17-19, 2020 SGM Perinatal Loss Support Conference Below:
PURPOSE and OBJECTIVES
This training equips nurses, chaplains, social workers, physicians, doulas, volunteers, and caregivers to implement a more comprehensive family-centered approach to caring for families facing a perinatal loss or life-limiting diagnosis in pregnancy with the following learner results.
• Recognize the bereaved parent's perspective and the need for options and resources.
• Describe the caregiver's responsibility in helping to create a lasting, tangible memory for bereaved parents experiencing
perinatal loss.
• Apply companioning methods when forming a comprehensive family-centered perinatal loss support program in the hospital setting and
beyond.
• Prepare a collaborative, multi-faceted palliative care team plan for perinatal hospice patients.
OB Training will include focus on the perinatal hospice and bereavement support services and how that program and philosophy will work together to meet the needs of bereaved parents who experience loss after 20 weeks gestation.
Perinatal Hospice/Loss Support program overview:
Services would include:
• Providing support for families facing a fatal diagnosis in pregnancy, including meeting with families to help create a birth plan to fit their individual needs.
• Walking with families through the journey, encouraging the family to cherish the gift of time with their baby, whether for a moment or for several months, offering continued support.
• Trained perinatal loss support doulas (support companions) to offer emotional and/or spiritual support during labor and delivery and encouraging/assisting family in making memories with baby, as much or as little involvement as desired by the family.
• Provide mementos: Dreams of You Memory Book, Comfort Bear, baby gown/layette, memorial jewelry, etc.
• Capture the precious time with baby through remembrance photography
• Follow-up support for families, including a monthly support group at the SGM facilities and one-on-one peer support, if desired.
ER and OR training will focus on the needs of bereaved parents who experience loss prior to 20 weeks. The program is parent/patient centered, and focuses on providing compassionate care for bereaved parents, offering options that help foster memory-making opportunities and allow for parent involvement.
Training will be provided for nurses, physicians, and any other staff who will benefit from the program. There will be several time slots offered to ensure that everyone is able to attend.
Training materials, memory-making items, video, and power point presentation will be provided to the hospital for losses from conception to infancy. The presentation will be offered by trained SGM Perinatal Loss Support Doulas, Photographers, and possibly a parent panel.
For those pursuing the full 40 contact hours, you must achieve a score of 80% or higher on your three online exams, and turn in your two essays, and pass the birth/perinatal loss simulation demonstration exercise.
Full Perinatal Loss Support Companion/Doula Certification – Cost per person: $300 (in addition to sponsored workshop fees)
(40 contact hours)
Faculty Directed: Both days from 9am-6pm (This portion is 16 contact hours)
(Day One focuses on bereavement support and establishing a perinatal loss program ~ Day Two focuses on labor support as a doula and demonstrating/role play support for a family experiencing perinatal loss through labor and beyond)
A written exam on the SGM Perinatal Loss Training Manual is also required to do independently online after attending the Workshop (Faculty-Directed Activity) Exam is available to learners online.
Completion of an independent study module is also required:
Learners are required to read 4 books to complete the independent study module for the full perinatal loss support companion (doula) certification:
Sufficient Grace by Kelly Gerken (231 pgs.) ~ This book covers a parent's perspective through the loss of 3 children, including marriage conflicts in grief, sibling grief, and finding comfort in grief through faith. ~ write 1-2 page essay
Companioning at a Time of Perinatal Loss by Jane Heustis, RN and Marcia Jenkins, RN (153 pgs) ~ Exam following. Exam is available online.
The Birth Partner by Penny Simkin (providing labor and birth support as a doula) (396 pgs) ~ Exam following (available online).
A Gift of Time (perinatal hospice) by Amy Kuebelbeck and Deborah Davis, PhD (391 pgs) ~ Approximately 100 families who chose to carry a pregnancy to birth after receiving a life-limiting diagnosis contributed to this book. It is the most comprehensive resource available for those facing a myriad of decisions when a baby's life is expected to be brief.  ~ write 1-2 page essay
Support is available in a private online Facebook forum, Skype/Google Hangout, via email, and telephone.
This portion of the training accounts for 24 contact hours. Nurses will have 12 weeks from the time of registration to complete the independent module for contact hours. Extensions may be granted up to 6 months if a written request is made and there are extenuating circumstances.
Other Workshop Only Options
Session One Only:
Introduction to Perinatal Hospice Protocol and Perinatal Loss Support for Birth Professionals:
9-11:30am  (2 contact hours)
Two Workshop or Webinar Sessions Totaling 4 hours:
(4 contact hours)
9am-2pm
 One Day Perinatal Loss Support Companion Module (8 contact hours):  9am-6pm
This activity has been submitted to the Ohio Nurses Association for approval to award contact hours. The Ohio Nurses Association is accredited as an approver of continuing education by the American Nurses Credentialing Center's Commission on Accreditation. (OBN-001-91)
Please call Kelly Gerken at 419-278-7640 for more information about contact hours.
Sufficient Grace Ministries offers bereavement resources for families who have experienced the loss of a baby through miscarriage, stillbirth, neonatal or infant death, or the death of a young child. We provide our services free of charge to grieving parents all over the world. We are now expanding to offer perinatal hospice and bereavement support services to hospitals throughout Ohio (currently Defiance Regional, Community Hospital in Bryan, Medina Hospital, and Henry County Hospital have adopted this program), who receive a fatal diagnosis in pregnancy, offering a staff of trained birth and bereavement doulas and photographers. You can also find more information on our website under the SGM Perinatal Hospice Link: www.sufficientgraceministries.org
GROUP WORKSHOP COST FOR TRAINING IN OHIO:
$1,000 per day of training (no limit to number of attendees. Up to 3 – 2 hour sessions per day)
Travel (mileage, parking), food stipend, and hotel accommodations for two.
GROUP WORKSHOP COST FOR TRAINING OUTSIDE OF OHIO:
$1,500 per day of training. (No limit to the number of trainees up to two 4 hour sessions per day OR one 8 hour session)
Minimum of two days strongly recommended if covering an entire hospital
Travel (airfare, mileage, car rental/taxi, parking), food stipend, and hotel accommodations for two
Additional fees apply for those seeking full certification through the independent study module.

Training includes all objectives listed above plus:
* SGM Perinatal Loss Support Companion Hands On Training
Establishing a Hospital Program
Memory Making
Bathing and Dressing Fragile Babies
Communicating loving support to bereaved families/Creating a Safe Haven
Perinatal Hospice Support and Birth Planning for families facing a life limiting diagnosis in pregnancy                                                                                   Role-play dialoging with patients facing a perinatal loss
* Optional: SGM Remembrance Photography Training
– Introduction to remembrance photography
– Positioning and photographing babies with brief lives
– Sample photographs
Testimonials:
Evaluations on SGM Training from the nurses and staff of Kings Daughters Medical Center, (Ashland, Kentucky)
"To hear the individual stories makes me want to pay more attention to the time I can devote to pregnancy loss patients and family…I believe every OB nurse should have annual training to better serve patients and families…I really enjoyed the training and stories, and it relieved some of the fear I feel each and every time I fall caring for a patient with a loss."
"I know I can use these compassionate techniques to help mothers and fathers cope."
"Thank you so much; this will truly help my practice as an OB office nurse."
"God has used you and will continue to use you in a mighty way."
"The speaker did a wonderful job."
"We got the perspective from an actual mother."
"Very informative and heartfelt."
"Awesome training!"
Nurses who have seen the SGM Team walking with families in the hospital:

My name is Nicole Minghine, I am an nurse at the University of Michigan Women's Hospital and had the pleasure of working along side of Kelly during a very difficult, but somehow incredibly beautiful loss last week. Kelly, you are an amazing doula and incredible human being. Prior to my interaction with Kelly, I (as well as many of the nurses I work with) had no idea there was even such a thing as a doula that specialized in perinatal loss and bereavement.
I was incredibly impressed by everything I experienced working with Kelly and left work feeling like I needed every nurse I worked with to have the opportunity to see that THIS is what a loss could (and should) look like. It didn't have to be a horrible, sterile, and depressing environment. It could be filled with family, and support, and BIRTH PLANS!! Who knew?! It made so much sense! And yet, in all of the losses I have ever cared for, this is the only one I left work thinking, "wow, that was really beautiful."
Nicole Minghine BSN, RN
UMHS VVWH
I just wanted to say that I've only worked with this program once for an anencephaly baby. I know the mother was so appreciative of everything your program did for her and her family. I feel that your program is an excellent one and I think mothers and fathers, as well as their families, benefit from your ministries. I know that the delivery was difficult for her knowing that she was not going to take this little one home with her, and you were very supportive of her at a time where she really needed it. Thank you for all that you do.
Sara Vicars, RNC-OB
Community Hospitals and Wellness Centers, Bryan