*Please note that we do not charge bereaved parents for our products or services. If you are a parent who has experienced a loss, and wish to receive any products on the Dreams of You Shop page (excluding t-shirts and ribbons), please fill out the request form below and click submit. (If you are not a parent, and want to give SGM items as a gift, please go to the Dreams of You Gift Shop to place your order.)While we do our best to fill orders in a timely manner and try to help fill urgent needs quickly, please allow at least 8-12wks. for delivery in most cases. For Perinatal Hospice Families or families we support locally immediately following a loss ONLY, we also offer baby gowns. If you are currently carrying a baby with a fatal diagnosis to term, you may order a boy or girl gown. Please specify size or gestational age in notes on the order form if you are in need of a gown. Comfort Bears are only available in a limited supply and may be substituted for a purchased bear to expedite orders.
ATTENTION ~ All Orders  will now be required to pay the shipping costs before your request will be added to our waiting list. We are shipping hundreds of Dreams of You packages each year, and the costs are rising.  Your items will still be free, but we ask that you cover shipping, so that we can continue to offer these beautiful items to grieving families. 
Dreams of You Memory Book By Kelly Gerken
The Dreams of You Memory Book was created for mothers and families who have lost a baby. This book comes in an 8 by 11 ½ inch hardcover, antique leather bound-look binder format so it is easy to add or change the book to match a parent's unique beliefs, tastes, and wishes. It includes places for parents to journal the dreams they had for their baby, their journey of loss and healing, letters to baby, pages to record the baby's statistics, memorial service, baptism, footprints, mementos, etc. Also included are inspirational poems and comforting scripture from the Bible, as well as the author's personal story of loss, grief, hope and healing.
Comfort Bear
These beautiful, cream-colored, soft fleece Comfort Bears were created by Kathy Rutter in 2005 for grieving mothers to have something to hold to ease the ache of empty arms. Kathy created each one with a grandmother's love and prayers. After a valiant battle with cancer, Kathy went home to heaven in October of 2006. Today her legacy continues as the Helping Hands Ministry gathers to sew the bears, sending a grandmother's love and prayers along with each one.
Dreams of You Miscarriage Book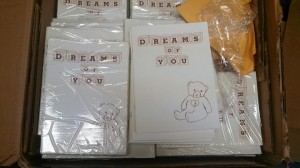 This newly adapted version of the Dreams of You Memory Book was created especially for families experiencing the loss of a baby prior to 20 weeks. Beautiful poems, comforting scriptures, and places to write the memories, dreams, and hopes parents have for their precious babies are within the pages of this keepsake.
Resources  
Walking With You ~ A Gentle Guide For Grieving Hearts: This 28 page booklet was compiled by Kelly Gerken and published by Sufficient Grace Ministries, using quotes from parents who have walked through the loss of a baby. This booklet is a wonderful resource for families who have received the terrible news that they are about to lose a child, and for those in the initial moments and days after a miscarriage, stillbirth, or infant death. It is a great addition to hospital care packages. Available for purchase $4. (If you purchase 5 or more, they are $3 each)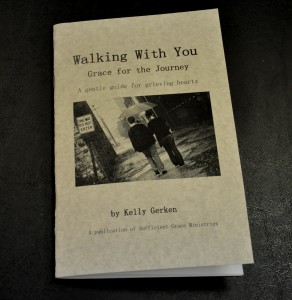 Walking With You For Fathers Booklet ~  This 20 page booklet is a compilation of quotes and insights from fathers who have lost a baby to miscarriage, stillbirth, and infant death. It is a rare look into the raw and real pain a father's heart endures when walking, often silently and unnoticed, through grief. The thoughts shared in this short booklet can encourage a father who may not seek outside conversation, with the knowledge that he is not alone and his grief is valid. There are also pages where spouses reflect on communication in marriage while grieving the loss of a child. A beautiful addition to a library of resources for grieving families.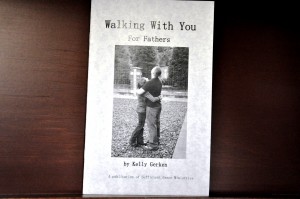 Baby Gowns
For our Perinatal Hospice Families ONLY: We now offer beautiful burial gowns and beautiful bracelets for the precious babies who leave this earth too soon. Depending on what we have in stock, gowns are satin, linen, crocheted, or other materials and varieties. Gowns are donated by volunteers, so we cannot guarantee a certain style. Quantities are limited. Therefore we cannot provide a gown just for the sake of having a memento, and not actually being used to clothe the baby. Sizes range from a baby 10 inches to a full-term newborn size. The back of the gowns are open for easy dressing. The gowns are also excellent to have at the hospital for precious photograph keepsakes of baby and family.
To learn more about the suggested donation costs for the items listed on this page, to sponsor a family, or to give Dreams of You items as gifts to someone in need, please visit the Dreams of You Gift Shop.