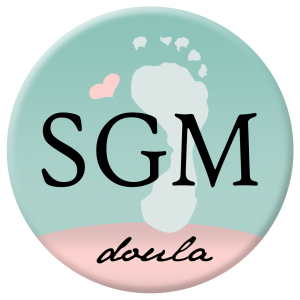 Walking with a family whose baby's life is expected to be brief, entering into the sacred place where heaven meets earth as they say hello and goodbye to their child, it is a gift most meaningful, and we take this privilege very seriously at Sufficient Grace Ministries. Because every life matters, we want each family to know, they are not walking this path alone. We strive to provide 24 hour availability of quality support from well-trained professionals. The most important quality we are looking for in our support volunteers is a heart of compassion and understanding for those who are grieving the loss of a child. Our volunteers are not there to try to fix or try to find the right answer…we are simply there to come alongside as companions walking this path together.
Expectations of SGM Doulas and Perinatal Loss Support Service Providers
What is a doula?
Doula is actually a term found in biblical times. At SGM, we love Thayer's definition:
Thayer's definition for the Greek word doulos (doula) ~ one who gives himself up to
another's will those whose service is used by Christ in extending and advancing
his cause among men devoted to another to the disregard of one's own
interests a servant, attendant
The medical definition of a doula:
Doula: 1. A non-medical assistant in childbirth. A doula is
not the father but is usually a woman who is experienced in childbirth. The
role of the doula is to provide the mother with physical and emotional
assistance before, during, or after childbirth. Also known as a birth
assistant, birth companion, childbirth assistant, or labor support
professional.
All volunteers serving on our perinatal hospice/bereavement team as support providers are required to complete the full training requirements of the SGM Perinatal Hospice and Bereavement Services Training. For full doula certification, our program cost is $300. For those volunteering directly with SGM, training will be offered at a discounted rate of $100. Full scholarships are available. Payment plans are also available.
Required reading to complete the SGM Doula Program:

You will be required to read 5 books listed in the training program details once approved and to take three online exams, which can be completed before or after attending the required in-person SGM Workshop. There will also be several webinars. You will have approximately 12 weeks to complete all the requirements. Extensions available when necessary.
•Sufficient Grace by Kelly Gerken ~ You will be required to write an essay or short paper on this book. It's important that you understand the history and heart behind Sufficient Grace Ministries. Sufficient Grace, written by our founder, is also included as one of our resources for grieving parents.
•Companioning at a Time of Perinatal Loss by Jane Heustis and Marcia Jenkins
•The Birth Partner by Penny Simkin ~ This book is required for all who are NOT CURRENTLY certified as a doula trained at another reputable organization. If you have received training through DONA, CAPPA, ProDoula, Stillbirthday, or another known doula training organization, you will need to show evidence of your credential to meet this portion of our training requirement.
•For those who need doula training, you will read The Birth Partner and take the exam.
•A Gift of Time by Amy Kuebelbeck and Deborah Davis ~ This resource is given to all perinatal hospice clients served by SGM locally and worldwide. It is an excellent resource for those facing agonizing decisions when given a prenatal life-limiting diagnosis. You will read this book and write a paper/reflection on the book.
You are required to attend a full in-person/hands-on workshop. After that, there will be an exam on the SGM Training Manual/Workshop.
You will be required to attend a few webinars. Those are still in the works. We also ask that you make every effort to attend an annual volunteer gathering/workshop for ongoing learning. The workshop/retreat takes place in April at our headquarters in Deshler, Ohio. We believe gathering in person is so important to develop and continue our relationships supporting one another as we provide support to others.
In addition to the aforementioned SGM Training Requirements, new/apprentice SGM doulas will also accompany an experienced SGM doula at least once before going on an assignment yourself, and will wait until approval from the SGM board before serving a family as the only support person on a case.
Doulas and perinatal hospice support staff will be expected to:
Come alongside grieving parents in various settings:  in person, on the telephone, online, at a hospital, birthing center, in a doctor's office, and at the SGM office.
Understand and adhere to the philosophy of care as outlined by SGM and perinatal hospice
Help families who receive a fatal diagnosis in pregnancy form a birth plan, help communicate their birth plan to others
involved in their care, and help implement the plan according to the family's wishes
Offer encouragement, support, and a listening ear
Foster a gentle, non-judgmental environment that helps parents experience their story, their way, creating the most optimal
experience possible under the circumstances
Support the idea that each family has been given a gift of time with their child and have the opportunity to embrace his/her life for as long as they are given.
Compile and offer bereavement support services and memory-making items (SGM offers an array of suitable items for this
purpose. A wealth of resources are available for the doula/support staff through SGM at www.sufficientgraceministries.org)
Doulas must be approachable and gentle, not imparting their own ideas, but guiding families and suggesting options when
applicable.
——————————–
To become an SGM Doula, you must submit at least two references from non-family members in the form of a letter of recommendation on professional letterhead, if applicable, attesting to your character and ability to perform the duties of an SGM Doula to sufficientgraceministries at gmail dot com.  Begin the process by filling out the online application/interview below.
Sufficient Grace Ministries will consider individuals who have a heart to serve bereaved parents as potential volunteer candidates. Perinatal hospice and bereavement service volunteers must be at least 21 years old, and have some experience with loss and/or a compassionate heart, and willing to attend training in becoming a birth and bereavement doula. Training and in service will be required of all volunteers wishing to meet directly with families. There may be additional interviews, background checks, and regular evaluations performed by your Regional Coordinator, the President, or Vice President of SGM. We are looking for those with a heart of compassion and a proper level of professionalism to serve families in such tender moments. We expect those representing the ministry to have an understanding of our statement of beliefs. All prospective volunteers will have to be reviewed and approved by Sufficient Grace Ministries board members. Those volunteers who are approved and signed the agreement will be expected to comply with all policies of the ministry. Upon approval from SGM, you will be able to sign up for the SGM Doula Training.